As part of the Winnipeg Arts Council's Public Art Program,  The City of Winnipeg partnered with the Winnipeg Arts Council to integrate art into the new Osborne Bridge design. The design was created in response to feedback from collaborative planning and public consultation. spmb, a firm based on partnership between artists and architects Eduardo Aquino and Karen Shanski, joined the community-based design strategy for a bridge that marks and celebrates two distinct neighbourhoods on each side of the Assiniboine River.

For the Osborne Bridge Public Art Project, spmb devised a concept based on recognizing the bridge infrastructure as art by integrating art components within the bridge structure. spmb focused its work on the most significant aspects community members identified during the collaborative planning phase of the bridge's  redevelopment, resulting in the three-component theme From Here Until Now.

The title From Here Until Now refers to the physical locale of the art (the village and bridge), in the "present-perfect": a neighbourhood/community that, by continuously recognizing its heritage, lives in an exciting present.
Three main components form the artwork:
1.  The sidewalk, by integrating the neighbourhood's physical map, translated into contrasting concrete tones and stainless steel trimming;
2. The bridge handrails, through LED lighting and text inscribed in digitally-cut aluminium plates transforming the existing balusters (pickets);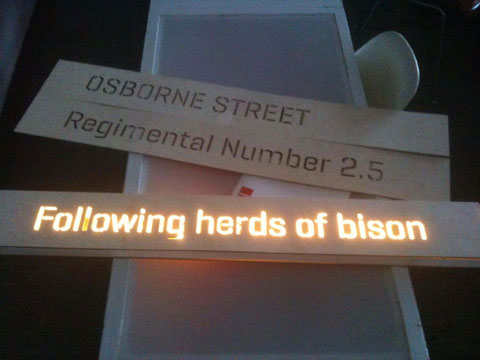 3. Two illuminated gateway zones at both bridge entries celebrating four important architectural moments of the neighbourhood's history (the Legislature, the Granite Curling Club, the Roslyn Apartment Building, and the Evergreen Towers) through renditions fabricated with water jet-cut aluminium plates and LED lighting.