THIS PLACE on Treaty 1 Territory & the homeland of the Métis Nation officially opened to the public with a free concert celebration on September 28, 2018. This is a major public art project that builds on efforts to create awareness of the rich Indigenous cultures, peoples, and heritage that are at the roots of our territory, city, and province. Indigenous artists were asked to respond to the idea of this place on Treaty No. 1 territory and the homeland of the Métis nation, and their reflections range in concept and expression. As a place of community and gathering in downtown Winnipeg, the artworks located in this park make a significant mark in the city.
The form and intent of this project was shaped through Canada-wide consultation with Indigenous artists, with the Mayor's Indigenous Advisory Circle, as well as a Winnipeg-based gathering with Indigenous artists, Elders, knowledge keepers, curators, and scholars. These artworks, having been created by Indigenous contemporary artists, and being about this place, give significant and permanent voice and meaning that is defined by Indigenous people themselves.
To celebrate and reflect on these artworks, the Winnipeg Arts Council commissioned a written response to the project by Cathy Mattes, which you can read by clicking here. Click on the images below to learn more about each artwork.
WAC continues to create programming as part of this project. Summer 2019 This Place events:
- RISE, a new performance by Jaime Black, August 13, 2019 
- Indigenous Medicine Pouch Workshops by Carole Frechette & Carolyn Moar, August 14 and August 29, 2019
-  okâwîmâwaskiy, a new performance by Lori Blondeau, August 27, 2019
-  For the Love of This Place, a screening curated by Jen Smith, September 6, 2019 
See galleries below for images from these events and read Jen Smith's essay here.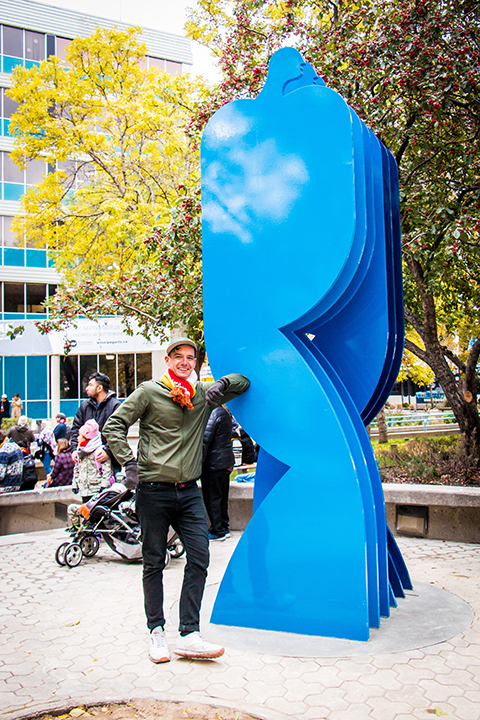 ​   
Mediating the Treaties by Roland Souliere; O-ween du muh waun by Rebecca Belmore and Osvaldo Yero;  Electrical Currents by Julie Nagam; The Square Dancers by Kenneth Lavallee
This project was made possible with the participation of the Government of Canada.