Let's Play Wheelchair Basketball!
Artist: Sasha Amaya & Thea Pedersen with Manitoba Wheelchair Sport Association Athletes
Program: Youth WITH ART
Location: Mayfair Recreation Centre Outdoor Court
Medium: varied
Date: 2021
Description
Let's Play Wheelchair Basketball is a new sign that shares the rules of Wheelchair Basketball and invites the public to play. It was installed at the Mayfair Recreation Centre's outdoor court in October 2021. Wheelchair basketball is played on the same court as running basketball. People who use a wheelchair every day, and those who use a wheelchair just for the game, can play together. To celebrate this inclusive sport, the Manitoba Wheelchair Sport Association (MWSA) community played their first game there Saturday, October 16 at 2pm.
Artists Sasha Amaya and Thea Pedersen have been collaborating with MWSA athletes through the WITH ART community public art program since 2019. They kicked off their collaboration with Allez Hop, a glow-in-the-dark wheelchair basketball court created for Nuit Blanche Winnipeg. The collaborators range in age, ability, ideology, and interest, and came together as they found parallels between sport and art. Drawing connections between two worlds that are often deemed separate became rather simple when the common goal of promoting accessibility became the focal point.
Let's Play Wheelchair Basketball! Yearbook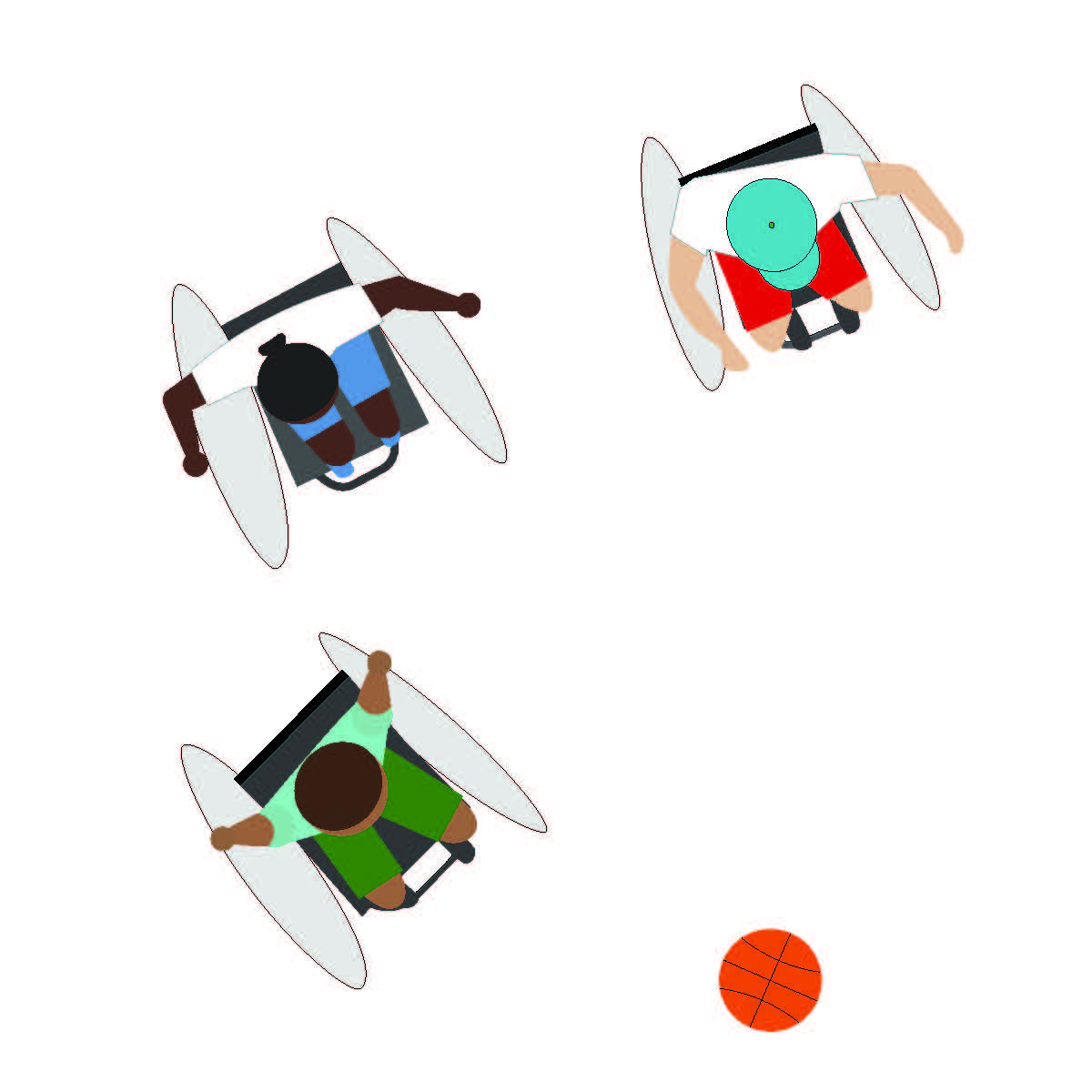 In the media:
Artist Biography
Thea Pedersen is a creative community enthusiast, who is passionate about Winnipeg, its creative sector, and its public spaces. Thea holds a Bachelor of Environmental Design and a Bachelor of Human Ecology in Family Social Sciences from the University of Manitoba where she trained in the fundamentals of landscape architecture, urbanism, marketing, and graphic design, as well as family social sciences, Canadian Indigenous studies, and community development.
Sasha Amaya works in dance, installation, and spatial design. She studied dance and music, as well as philosophy at the University of Winnipeg, followed by graduate studies at the University of Cambridge and the Royal Institute of Art Stockholm. Sasha has created several works for public spaces which endeavour to promote reflection on and create space for multiple ways of being.
The Manitoba Wheelchair Sport Association is committed to leadership in the promotion of well-being and a healthy lifestyle through the development of sport and fitness-related opportunities for physically disabled Manitobans.
Gallery
Map