In Memoriam
Jim August
Jim served as a member of WAC's Board of Directors for four years, including three as Chair. He inspired the Board with his determination that all Board members would be recognized and included. His love of and support for the arts in Winnipeg was lifelong.
A tireless advocate for downtown and community development, Jim understood the importance of the arts in that context. Throughout his career he worked to make Winnipeg a better place for everyone and he understood that a healthy and vibrant arts community was integral to that. His ideas were ambitious and progressive, always with the intent of building and advancing Winnipeg.
We remember Jim for his leadership and his humour. The Winnipeg Arts Council extends deepest sympathy to Jim's family and all who knew him.
Doreen Brownstone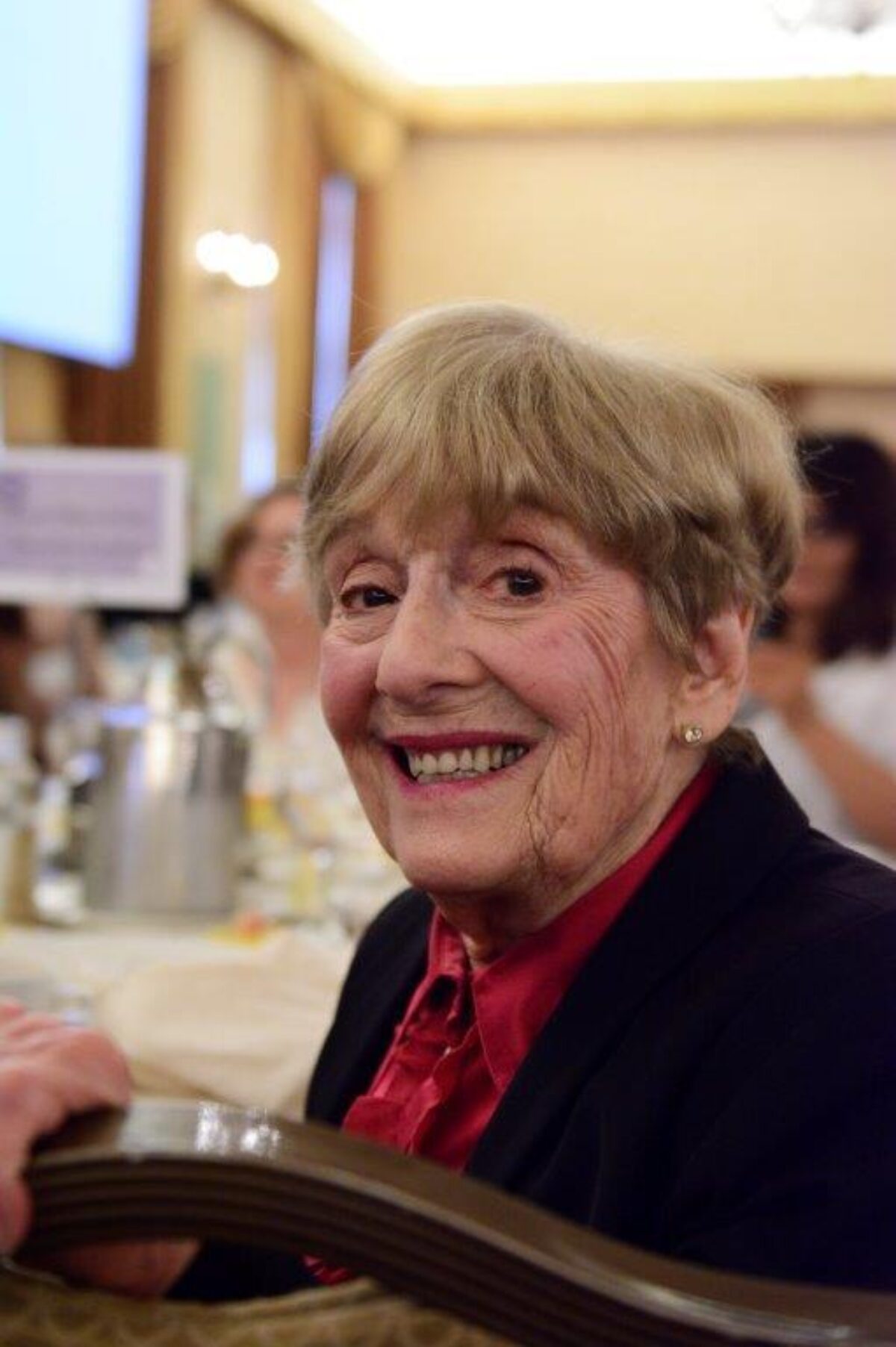 The Winnipeg Arts Council is saddened by the passing of Doreen Brownstone. With a stage and screen acting career spanning six decades, Doreen was a legend in Winnipeg and across Canada.
When she was nominated for the Winnipeg Arts Council's Making A Mark Award in 2013, the jury decided it was impossible to compare her career to any other before them, and it was then that Doreen was named the first – and to date, still the only – recipient of the Winnipeg Arts Council's award for lifetime achievement in the arts.
Born in England, Doreen immigrated as a war bride to Winnipeg, where she met director John Hirsch. Hirsch cast her opposite Gordon Pinsent in MTC's first production, A Hatful of Rain and, 16 years later, in the groundbreaking national TV series House of Pride. Throughout her career she worked at many and independent companies as well as the Winnipeg Jewish Theatre, Theatre Projects Manitoba, Prairie Theatre Exchange and Rainbow Stage, as well as companies across Canada including The Segal Theatre (Montreal), Belfry Theatre (Victoria), and Stage West Theatre (Edmonton & Calgary).
She toured with MTC's production of Driving Miss Daisy at 83 years old and when she became the first Canadian stage actor to work past the age of 80, Canadian Actors' Equity Association revamped their systems to cope with her trailblazing career. They also awarded her a Life Membership for her outstanding contribution to the performing arts, as did ACTRA, for distinction in the film and television industry.
Former Manitoba Theatre Centre Artistic Director Steven Schipper said, "Doreen always reminds us that there is a little girl deep within the nonagenarian, and that child-like curiosity, openness, and desire to learn have earned her the love of Winnipeg artists and audiences of all ages. They admire the length and breadth of her career, and her fine command of the craft, and she helps us all imagine how full our own long lives can be if we have her determination."
Vince Fontaine
Much has been written this week about the passing of Winnipeg musician, producer, and mentor Vince Fontaine. The Winnipeg Arts Council joins the community in remembering a person who was instrumental in bringing Indigenous artists to the spotlight. Our thoughts go out to Vince's family and to all those who were touched by his artistry.
The Winnipeg Arts Council Awards were established in 2007 and Vince was the recipient of the second ever Making a Mark award a year later. We honour his memory with these words from his nomination at the time:
"Vince is one of a small group of groundbreaking Manitoba artists who seamlessly melded First Nations culture, history and politics with popular music that appeals to audiences of all backgrounds…Well before graduating university with a degree in Sociology, Vince observed the huge gaps in knowledge, understanding and empathy towards First Nations issues amongst mainstream Canadians. Vince's urban Winnipeg upbringing coupled with frequent stays with family at the Sagkeeng First Nations community, home of his parents and grandparents, provided a context to see not barriers but opportunities for Native American art, culture and history to be shared with Canadians from all backgrounds.
Vince was and remains an artist first and managed to resist the then popular trend to channel obvious polemics through appropriated "Native" music clichés. Instead, he journeyed back to his roots immersing himself in the teachings and counsel of family and elders and allowed this experience to emerge naturally through his music and lyric writing."
- Andrew Balfour, Composer & Artistic Director, Camerata Nova
"Vince envisioned a powerhouse musical group that would combine modern rock elements with traditional Aboriginal stylings. His intent was to provide exciting entertainment, honour his traditional culture, and create a new form of Aboriginal music that was unique in the world of Canadian popular music. He achieved all that and so much more throughout the ensuing years."
- Sam Baardman, Manitoba Audio Recording Industry Association
Laird Rankin
Laird joined the WAC Board in 2006 and his special and deep connection to the Winnipeg Arts Council prompted the organization to bestow upon him the title of Chair Emeritus in May 2016.
Laird made many visits to City Hall to address Standing Committee and the Executive Policy Committee on both budget and the corporate plan, and to meet with individual Councillors on behalf of the Winnipeg Arts Council. He spoke on behalf of the organization at countless public art openings and other events, as well as presenting the Carol Shields Winnipeg Book Award annually at the Manitoba Book Awards for as long as anyone has been keeping track.
Between 2006 and 2017, Laird missed a total of three Board meetings. He sent regrets once in 2007 and once in 2008, and then his attendance record was perfect until February 2016 when his family sent him to New York for his birthday so he could attend the Metropolitan Opera.
The staff and Board felt an uncommon affinity and bond with him. Laird was a staunch defender of the arts in all its forms. His easy banter and shrewd observations showed his genuine interest and support of the Winnipeg arts community. When Laird would inevitably arrive early for a Board meeting or public art opening, the staff were thrilled because it meant that we each could have a moment with him to exchange thoughts on recent arts events, local news or travels (both his and ours). Laird was smart, witty and accomplished in so many areas and we are deeply grateful for his time with us. His eloquent words, grace, and sense of humour will be remembered. We miss him already. We extend our deepest sympathies to his sons, Matthew and Scott, and his family.
Kathleen Richardson
When the Winnipeg Arts Council first started giving out awards in 2007, Miss Richardson was our inaugural Arts Champion. Ever the quiet philanthropist, she refused to comment on her gifts and eschewed most forms of public recognition. When she allowed her name to stand for the Arts Champion Award, Miss Richardson did so not for personal recognition, but to serve as an example for others. We felt privileged that she often joined us at the Mayor's Luncheon for the Arts to celebrate the talent and skill of Winnipeg's arts community. Winnipeg's vibrant artistic landscape can be attributed in large part to her involvement with all the cultural organizations that this city has come to cherish.
It is not an overstatement to say that several organizations would not be the same if it had not been for Kathleen Richardson's remarkable impact. Her recorded and significant involvement in support of the Royal Manitoba Theatre Centre dates back to 1957 when she purchased what was then known as the Dominion Theatre. She encouraged the Royal Winnipeg Ballet to take risks with new ballet repertoire, thus allowing choreographers and dancers the opportunity to create new art. Her life-long love of orchestral music was well-known, and she had been a long-standing supporter of the Winnipeg Symphony Orchestra for more than four decades. It was her suggestion that James Richardson & Sons Limited celebrate its 150 years in business by making an unprecedented gift of $1 million dollars to the WSO, RWB, Royal MTC and Manitoba Opera. This included the lead gift of $250,000 for the development of Manitoba Opera's original opera, Transit of Venus.
"All during my tenure (1985-1992) as director of the Winnipeg Art Gallery, Miss Richardson was a member of the Winnipeg Art Gallery Board. The most considerate and generous of donors, she always sought advice as to where the greatest need might be. From essentially establishing the Arts and Crafts dimension of the Decorative Arts Collection (an area she personally loved) to supporting major contemporary purchases, along with annual operating gifts, Miss Richardson was the personification of the "'Arts Champion.'" How extraordinary to be able to work with her side by side. I will treasure her memory always."
- Carol Phillips, Executive Director, Winnipeg Arts Council
Our condolences to Kathleen Richardson's family. We hope you are comforted by the outpouring of love and appreciation for her. She will always be remembered for her kindness and generosity and the respectful way she championed artists.
Dr. Moti Shojania
Our dear friend and colleague Dr. Moti Shojania was a passionate advocate and generous supporter of the arts. She volunteered her time with us, Winnipeg's Contemporary Dancers, the Institute of Humanities, the Winnipeg Art Gallery, the Manitoba Arts Council, and the Manitoba Chamber Orchestra. She served on our Board for almost nine years including three years as Chair, presiding over Winnipeg's designation as Cultural Capital of Canada and our twenty-fifth anniversary event featuring Salman Rushdie.
Moti was a firm believer in the connection between the arts and the world around us. We appreciate how she represented us during her tenure, always speaking enthusiastically and eloquently about the importance of all the arts.
Her charm and warm heart will be missed. The Winnipeg Arts Council Board and Staff extend our deepest condolences to Dr. Majid Shojania and the Shojania Family.
Andris Taskans
Andris is best known as the co-founder and editor of Prairie Fire magazine, and for his work in turning it into one of Canada's preeminent journals of creative writing. His work in Winnipeg's literary community runs deep, not only with Prairie Fire but as the first Artistic Director of the Winnipeg International Writers Festival, and his contributions to the early days of the Manitoba Writers Guild and the Manitoba Magazine Publishers Association.

In recognition of his work to elevate the literary arts in our community and beyond, Andris was the winner of the Winnipeg Arts Council's 2009 Making A Difference Award. His contributions have allowed Canadians to discover countless Winnipeg writers, and he was a mentor and advisor for many more.

Always an advocate for the arts, Andris will be missed. Winnipeg Poet Laureate Di Brandt offered these words of tribute:

We have lost a bright literary light of Winnipeg, of Canada, of the world. Andris was a generous, courageous, perceptive, elegant, devoted servant to professional literary writing in our country. Besides creating a high calibre literary magazine and inspiring others to join him in sustaining that calibre for nearly half a century, Andris was always alert to new creative opportunities for supporting writers and new writing, and had a large hand in the creation of the Manitoba Writers Guild, the THIN AIR Winnipeg International Writers Festival, and many other programs and events.

It's hard for us to remember, now, how little infrastructure there was for writers in our province and city forty years ago. No one served the transition to our currently robust and flourishing literary culture more graciously and steadfastly than Andris, and we have much to thank him for. He always had his eye out for the new hot literary thing, and kept us on the edge of exciting innovation, while at the same time holding a large space for the established writers among us, always highlighting their achievements with elegant appreciation and grace.

Andris, you will be greatly, deeply, richly missed. Here's to you, who inspired and led us, and fed us, for so long.
Andrew Wilhlem-Boyles
Andrew was Director of the Winnipeg Arts Council between 2002 and 2005, a pivotal time of change for the organization when it moved from an advisory committee to a fully incorporated arts agency. His leadership was critical to the formation of the Winnipeg Arts Council Inc. in 2002 and to the development of the Public Art Policy. Andrew established a municipal funding model for the arts that is still current. With his many accomplishments and adventures in the arts in Canada and internationally we were honoured that Winnipeg was one of Andrew's chosen cities. He will be greatly missed and we extend our heartfelt sympathies to his family.