From Here Until Now
Artist: spmb (Eduardo Aquino and Karen Shanski)
Program: Collaborations
Location: Osborne Bridge, Osborne Village
Medium: Stainless steel, aluminum, concrete, LED lighting
Date: 2012
Description
As part of the Winnipeg Arts Council's Public Art Program, The City of Winnipeg partnered with the Winnipeg Arts Council to integrate art into the new Osborne Bridge design. The design was created in response to feedback from collaborative planning and public consultation. spmb, a firm based on partnership between artists and architects Eduardo Aquino and Karen Shanski, joined the community-based design strategy for a bridge that marks and celebrates two distinct neighbourhoods on each side of the Assiniboine River.

For the Osborne Bridge Public Art Project, spmb devised a concept based on recognizing the bridge infrastructure as art by integrating art components within the bridge structure. spmb focused its work on the most significant aspects community members identified during the collaborative planning phase of the bridge's redevelopment, resulting in the three-component theme From Here Until Now.

The title From Here Until Now refers to the physical locale of the art (the village and bridge), in the "present-perfect": a neighbourhood/community that, by continuously recognizing its heritage, lives in an exciting present.
Three main components form the artwork:
1. The sidewalk, by integrating the neighbourhood's physical map, translated into contrasting concrete tones and stainless steel trimming;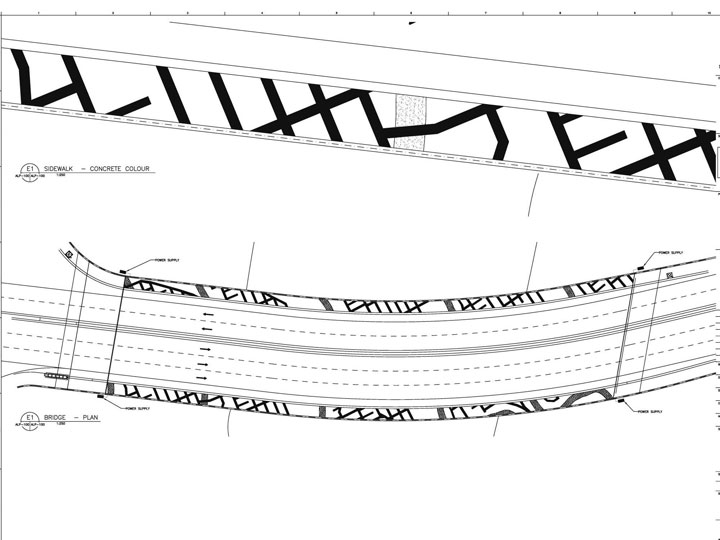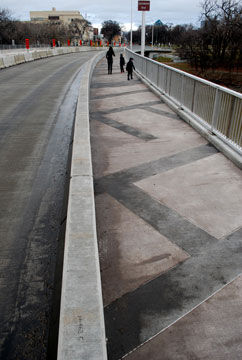 2. The bridge handrails, through LED lighting and text inscribed in digitally-cut aluminium plates transforming the existing balusters (pickets);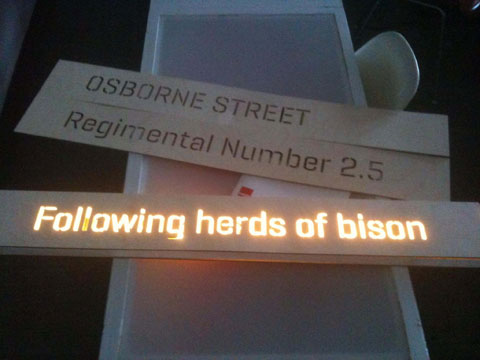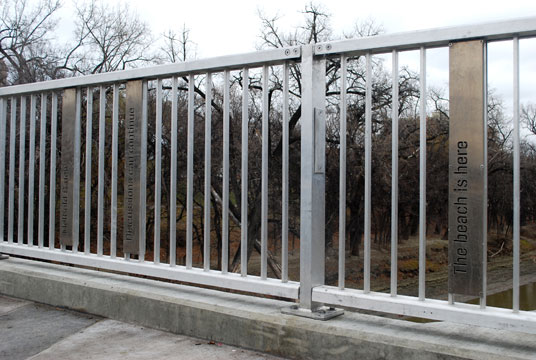 3. Two illuminated gateway zones at both bridge entries celebrating four important architectural moments of the neighbourhood's history (the Legislature, the Granite Curling Club, the Roslyn Apartment Building, and the Evergreen Towers) through renditions fabricated with water jet-cut aluminium plates and LED lighting.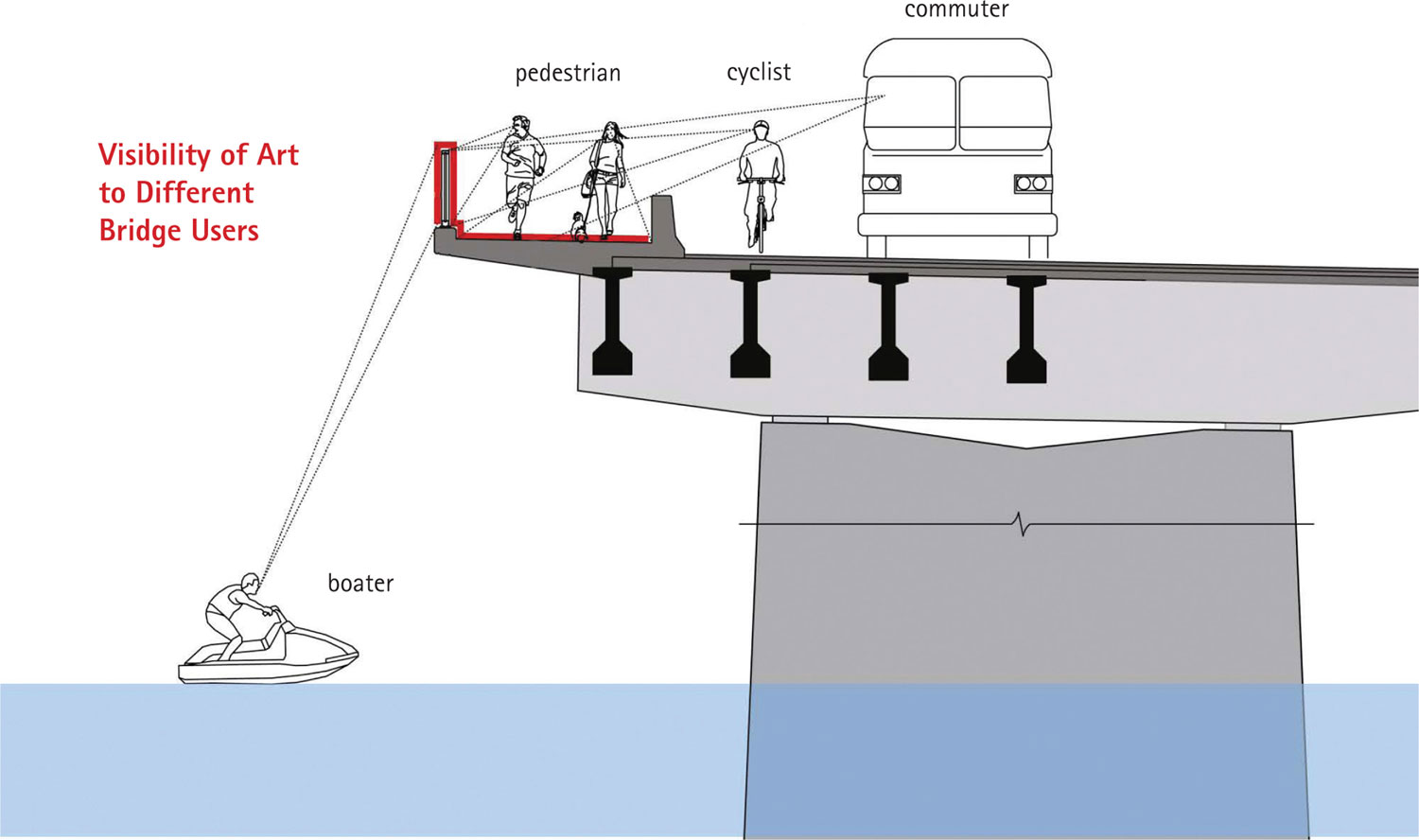 Artist Biography
spmb [São Paulo-Manitoba] practices in the interstices between art and architecture. Karen Shanski and Eduardo Aquino collaborated for the first time teaching together in 1998, triggering a practice that generated more than 50 projects in the past decade. spmb's main area of the practice is public art, but expands into education, landscape design, furniture, public spaces, urban design, research, publications, and exhibitions. spmb values collaborative processes and community-oriented projects, which means that ideas develop from dialogic means in order to achieve innovative thinking and ground breaking directions. As artists and architects we are familiar with the conventions of collaboration with clients, other designers, engineers, city officials, and fabricators, giving us the ability to manage technical specifications of large scale projects and to produce/present all deliverables in an effective, professional and timely manner. We are aware as public artists that we are a part of a larger organizational structure, and we understand that to practice in the interstices of art, architecture and public space means that we do not default to subjective/individualistic primers, but we place collaboration as a major force of the process.
Gallery
Map